My condolences go out to Janet and her family.
Play along here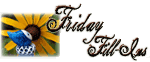 1. The world is
not your oyster --
Prying it open ruins your chances of putting it back.
~ Matthew Good
2.
"Bye... love you"
was the last thing I said.
3. I wonder
if anything's absolute anymore. Is There Still right and wrong? Good and bad? Truth and lies? Or is everything negotiable,left to interpretation, grey. Sometimes we're forced to bend the truth, transform it, cause we're faced with things that are not of our own making. And sometimes things simply catch up to us.
~ Lucas Scott (One Tree Hill
)
4.
Here
at the end of all things.
5. There's something to be said for
simplicity
.
6.
Right here
is where I want to be.
7. And as for the weekend, tonight I'm looking forward to
a movie with hubby
, tomorrow my plans include
a family gathering at my brothers house
and Sunday, I want to
stay home and un-decorate my house
!
♥♥♥
Happy weekend
♥♥♥