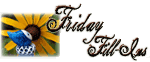 And...here we go!
1. Johnny Weir
was robbed, robbed I tell you! They say judging is better in Olympic figure skating but I disagree. Darn shame!
2.
I've had nothing on the TV but the
2010 Olympics.
3. And the day came when the risk to remain tight in a bud
was more painful than the risk it took to blossom. ~ Anis Nin
4.
It's OK to belt out a tune anytime, anyplace
if you get an urge.
5. Having sweet dreams
would be nice for once
.
6. What does it take
to get a good nights sleep?
7. And as for the weekend, tonight I'm looking forward to
... hmm, not sure what I will do tonight
, tomorrow my plans include
the usual errand running and grocery shopping, then spending the night with my daughter before she heads off to NY for the week,
and Sunday, I want to
not worry about my girl being in a big city but I know that isn't going to happen
(see fill in #3)!