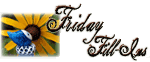 And...here we go!
1.
Pumpkins, colourful gourds, orange, red, gold, piles of leaves, Thanks Giving and Halloween
are some of the things I'm most looking forward to in October.
2. Sometimes I
wish
I could just get it right.
3.
Things change and anything can happen,
and that's why there is a saying, "never say never"!
4. When I'm down, I
have a loving husband and family who help pick me up
.
5.
Outside or at my computer
is where you'll find me most often.
6. A rainy day is good for
curling up to a good book or movie, or catching up on some household chores.

7. And as for the weekend, tonight I'm looking forward to
going out to celebrate my sons 19th birthday
, tomorrow my plans include
the usual errand running
and Sunday, I want to
stay home and possibly cook a roast. I wonder if my kids will join me if I'm offering food?
TGIF everyone! Enjoy your weekend :)