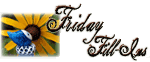 And...here we go!
1. I know
it's odd to tidy up shelves in the supermarket while shopping. OCD can make you do some strange things.
2.
January, February, March are
the longest month
s
.
3. You can't help but
wonder why black attracts dust like a magnet
.
4.
I'm waiting for my new vacuum to be delivered
; bring it on!
5. Where have you looked
for your phone? Did you leave it somewhere
?
6.
I was surprised to see that Easter Candy
is now available.
7. And as for the weekend, tonight I'm looking forward to
not having any obligations at all and just staying home or doing whatever I please
, tomorrow my plans include
shopping
and Sunday, I want to
clean out the storage closet
!