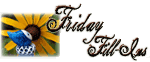 And...here we go!
1. A cup of tea
(aka: a cuppa) is best
made with looseleaf tea tossed into a warm pot, pour boiling water over the leaves and let steep for two to five minutes.
2.
Warmth, love and comfort
makes a place feel like home.
3." Everything has its beauty
but not everyone sees it." - Confucius.
4.
Do you know how badly I am craving the smell and
the taste of strawberries?
5. Art makes me
happy, sad, makes me ponder and feel inspired
.
6. LOL I just noticed I forgot
to take something out of the freezer for dinner tonight -- oops, guess we will just have to order in
or go out.
7. And as for the weekend, tonight I'm looking forward to
my girl getting home from her trip
, tomorrow my plans include
a trip to the grocery store, hardware store, and most importantly... the liquor store
and Sunday, I want to
hit the highway and head into the valley for the day (weather permitting)
!