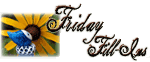 All questions this week are courtesy of the original founder of the Friday Fill-Ins,
Megan
1. Oh, I can't wait until I have a
couple days away with just me and the hubby
.
2.
Beer
is the first thing I see when I open my refrigerator.
(I need to do some grocery shopping)
3. I never leave home without
my camera
.
4. If I were a condiment, I would be
hot sauce
because
I am spicy?
5.
Disrespect
is really high up on my list of pet peeves.
6. The last thing I thought of before I went to bed was
.
7. And as for the weekend, tonight I'm looking forward to
relaxing
, tomorrow my plans include
groceries
and Sunday, I want to
pack for a few days away with the hubby
to celebrate our 20th wedding anniversary
!