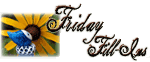 And...here we go!
1. October
is bittersweet
.
2.
Arachnids
scare me!
3. Leaves are falling all around, it's
that time of year when the horizon resembles a painting filled with orange, red, brown and gold.
4. My favorite horror movie is
Alfred Hitchcock
's
Psycho
because
I LOVE Hitchcock movies in general and Psycho had all the elements that make up a great horror flick.

5.

Family and friends gathering together

= good memories.

6. It was a dark and stormy night
; "the rain fell in torrents - except at occasional intervals, when it was checked by a violent gust of wind which swept up the streets (for it is in London that our scene lies), rattling along the housetops, and fiercely agitating the scanty flame of the lamps that struggled against the darkness."
-
Bulwer-Lytton

7. And as for the weekend, tonight I'm looking forward to going to get some paint samples

(it's time for a change)

, tomorrow my plans include

grocery shopping

and Sunday, I want to

spend the day

cleaning and doing some Halloween decorating outside

!


have a wonderful weekend friends...