Play along here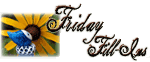 1. I must
visit the
Amalfi Coast, Italy
before I die.
2. You can't stop
loving or wanting to love because when its right, it's the best thing in the world. When you're in a relationship and it's good, even if nothing else in your life is right, you feel like your whole world is complete. -- Keith Sweat
3. I wish I never had to buy
another car
again.
4.
My husband
has helped me change my life.
5. I know the song
Rappers Delight
(

Sugarhill Gang
)
by heart.
6. If I weren't so afraid, I would
would love to sing (rap) it before a live audience
.
7. And as for the weekend, tonight I'm looking forward to
relaxing at home with the family
, tomorrow my plans include
boxing day sales
and Sunday, I want to
go to the used record store to buy some vinyl for the collection
!


Hope you all had a wonderful Holiday Season!