To play along, click the link below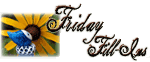 1-3 are courtesy of
Mar
this week
1. Give me
love
and I'll
give it back.


2. Whenever
I call you friend, I believe I've come to understand, Everywhere we are, You and I were meant to be, Forever and ever. ~
Kenny Loggins
&
Stevie Nicks
3. I wish,
how I wish you were here

We're just two lost souls swimming in a fish bowl
Year after year

Running over the same old ground

What have you found
The same old fears

Wish you were here
~ Pink Floyd
4.
Chocolate truffles
was the last thing I ate that was utterly delicious.
5. To live in this world...
Ativan helps
.
6. Other than this one,
Only a Movie
is the last blog I commented on.
7. And as for the weekend, tonight I'm
looking forward to
visiting my sick niece in the hospital
, tomorrow my plans include
the usual; shopping, errands
and Sunday, I want to
spend the day with the family
!
{Have a great weekend!}