Want to play along? Click the image below.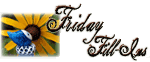 1. I grew up thinking
that happiness was a luxury only the wealthy could afford. Now that I'm older, I realize that happiness is being content with what we've got.
2.
BlogU
was the last website I was at before coming here.
3. Why don't you
call it quits for today and meet me at the pub for a cold one?
4.
A hot bath with a huge pile of bubbles
helps me relax.
5. Thanks for the
visit to my blog and all the great comments!


6.
News that the H1N1 virus is now a pandemic
is very off-putting.
7. And as for the weekend, tonight I'm looking forward to
getting my hair cut
, tomorrow my plans include
attending my niece Lauren's ballet recital
and Sunday, I want to
stay home and catch up on some neglected house work
!