I'm just sitting here this morning filling in the
Friday Fill-Ins
, thinking of what I have planned for my weekend. Weather girl says it's going to be sunny and around 10°C. The ground has finally thawed and the ice on the lakes and rivers is almost all gone. Time to shake all the doom and gloom that winter sometimes leaves behind and get outside, kick up my heals and simply enjoy life.
A dear friend once told me... "You get out of life what you put into it". And he is so right! Life is not a rehearsal, so get out there and enjoy!
Re-connect with your inner child: Go for a hike, hug a tree. Skip stones in a pond, lake, ocean. Grab your camera and be a tourist in your own city/town/suburb. Dig in the dirt. Ride a bike... whatever it takes to brighten your spirit and turn on the laughter.
Meet you at the shore!!!
What are some fun things you have planned for the weekend?
Now on to the Fill-Ins...
Friday Fill-Ins #168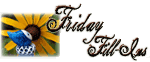 My answers are in
bold
. And...here we go!
1. Today I will be
at the office 'till about 3ish
.
2.
Flat tire on my way home last night....grrrr,
and I say why not?
3. What do you think of
me sitting here writing in my blog when I have work to do?
4. At
Starbucks
it's free Pastry Day til 1030 Friday!
(In Canada it's on Tuesday March 23)
5. People say that what we're all seeking is
acceptance
.
6. The image I cherish most is
of my three children together
.
7. And as for the weekend, tonight I'm looking forward to
Alice in Wonderland(maybe)
, tomorrow my plans include
an early morning market trip
,
lingerie store, book store
and Sunday, I want to
go for a walk, tidy the house, bake a chocolaty sinful dessert (any suggestion?)
!