Play along here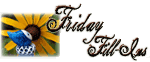 1. Right now, I'm feeling
angsty and tired
.
2.
This
is where I want to be.
3. How does one
week manage to fly by so quickly
?
4.
My hubby
keeps me on track.
5. Please don't go,
baby please don't go, baby please don't go,down to New Orleans you know I love you so, baby please don't go. . .

Big Joe Williams
6.
My kids laughter
fills me with joy.
7. And as for the weekend, tonight I'm looking forward to
doing some camera shopping online
, tomorrow my plans include
the usual - groceries and shopping
and Sunday, I want to
make some mac & cheese, something sweet and gooey for dessert and hang out with the family
!
Thank you for your well wishes this week, I am feeling much better. To those who have been bitten by the bug - get plenty of R&R this weekend :)
Have a wonderful weekend all
!