Want to play along?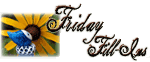 1. It's January;
January is named after Janus, the two-faced Roman god of gates and doors, the god of new beginnings, the god with one face that looked back over the past, while the other looked resolutely to the future.


2.
Sunshine and warmth
is what I crave most right now.
3.
Cork and wine go together like
bread and brie.


4.
A healthy breakfast
is so nourishing.
5. Let us dare to
believe,
hope, smile, love, live.
6.
"So I'm happy that I'm going to my husband, to my country, to
my home

..."
7. And as for the weekend, tonight I'm looking forward to
dinner at Opa,
tomorrow my plans include
grocery shopping and running some errands
and Sunday, I want to
stay home and tidy up a bit!