Play Along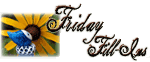 1. My blueprint for success
includes
is
non existent... should I be worried I don't have blueprint??? Oh great! Something to obsess over this weekend
.
2.
Mars Bars, Sourpatch Kids, Gummy Bears
was the last candy I ate. (had a lot of left over Halloween candy)
3. The best facial moisturizer I've ever used is
ANEW Clinical from Avon
.
I've been using it since last December - lovin' it!
4.
Walking in the rain
can be good therapy.
5. I'd like to tell you about
a dream I had the other night...I was soaring through the heavens in a beautiful balloon
...
6.
Diversity
is my strongest characteristic.
7. And as for the weekend, tonight I'm looking forward to
working on my blueprint
, tomorrow my plans include
obsessing
and Sunday, I want to
have some ideas put on paper
!
Have a safe and pleasant weekend friends! xoxo