Play along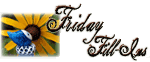 1. Please feel free to
add your comments to Slightly Off-Center
.
2. When I
am brewing a pot of maple roasted coffee
, I can't help sniffing it occasionally.
3. My favorite thing to cook is
a big country breakfast
.
4.
Warm, gooey comfort food
is something I can't get enough of.
Mmmm, Piping-hot macaroni and cheese, chewy chocolate chip cookies warm from the oven or a big mound of fluffy white mashed potatoes with a pool of melted butter dripping down the side.
..
5. That's the thing I love most about
the colder months, there is always a new recipe to try
.
6.
Sometimes my husband will do something so bizarre it
always makes me think to myself, what the heck?
7. And as for the weekend, tonight I'm looking forward to
a date with my sofa and tv
, tomorrow my plans include
going downtown to watch the Parade of Lights
and Sunday, I want to
clean the house from top to bottom
!
Wishing you all a wonderful weekend