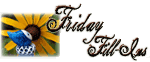 Click the link above to join in the fun!
And...here we go!
1. No, we will NOT
let the hustle and bustle of the season get us in a funk
.
2.
Grab a cup of coffee or tea, the deck of cards, and let's gather for a game of Cribbage
at the old kitchen table.
3. I watched the steam rising from the hot cup of tea and thought:
Sometimes when life gets busy and hectic, I don't appreciate the small things in life -- especially around this time of year.
4.
Ever had one of those days where everything seems to fall in place
and you just know it's
going to be okay
?
5. I'll take
some
sugar, eggs, molasses, flour, butter, cinnamon and ginger and make us some gingerbread
.
6.
"Merry Christmas (I Love You)" by Hawksley Workman is one of the BEST Christmas songs
... at least from my point of view.
7. And as for the weekend, tonight I'm looking forward to
doing a little shopping with hubby
, tomorrow my plans include
grocery shopping then veggin' out at home watching some movies with Baby Girl
and Sunday, I want to
do some holiday baking
!
Merry Christmas (I Love You)
by Hawksley Workman