My stomach hates me and everything I put in it. My head is pounding so I'm home sick today and have time to Fill-In this week.
Soooo...here we go!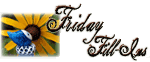 1. Good times:
Man I loved that show! Remember when Janet Jackson played Penny?
2.
I need to get my butt in gear this weekend and spread some holiday cheer around
my home.
3. Sleigh bells ring...
but I wish they would stop - my freakin' head is pounding
.
4.
I'm getting it done little by
little.
5. Once more
I have left my shopping too long and need to scramble to finish up
.
6.
Is this au revoir or just the
end?
7. And as for the weekend, tonight I'm looking forward to
the start to the weekend
, tomorrow my plans include
finishing up my shopping
and Sunday, I want to
attend a family gathering at hubby's uncles farm and cut down our Christmas tree
!
What are your plans for the weekend?
Visit more Friday Fill-Ins
here
.