Tetley really isn't my brand of tea, but I had to have this tin.
Oh, how I ♥ Johnny Depp!
Friday Fill-Ins #169
Click the link below to play along.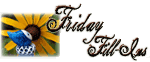 My answers are in
bold
. And...here we go!
1. The right word
can capture and convey true feelings
.
2.
Wake me gently. And on your way out be sure
and shut the door quietly, please.
3. Up
Up and Away
!
4.
Right here
is where you'll find me.
5. Ooh! What is that
heavenly smell coming from my neighbours kitchen
?
6.
Sleeping late on Sunday
is a good idea.
7. And as for the weekend, tonight I'm looking forward to
a night at home with hubby
, tomorrow my plans include
helping my father-in-law install some flooring in his family room
and Sunday, I want to
wake up from a good nights sleep feeling refreshed and rejuvenated
*fingers crossed*!
What will you be doing this weekend?