I'm not sure if these birds where Eagles, Hawks, or Osprey, but they sure were a treat to see soaring above my house yesterday.
Now on to the Fill-Ins.
Want to play along? Click on the image below.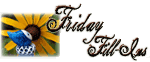 And...here we go!
1. I love to go to
_the country when the weather turns warmer_
because
_there are so many delightful sights, sounds to take in_
.
2.
_It is not the quantity of the Easter chocolate_
it's the quality!
3. The last thing I had to eat was
_a cheese and spinach pizza_
.
4.
_Pantyhose with a dress_
is no longer essential.
5. Please take a moment to
_count all your blessings and remember all the good things in your life_
.
6.
_If you consider your life to be a journey; what are some adventures that_
have brought you this far
?
7. And as for the weekend, tonight I'm looking forward to
_not really planning anything - just go with the flow_
, tomorrow my plans include
_taking the Girl for a hair design at our favourite salon_
and Sunday, I want to
_get my ass out of bed early and get to the market for some breakfast and goodies_
!
What will be your plans for the weekend?
Ps. Stay tuned for the 3rd Blog Anniversary Give Away draw later today.