I am having so much fun experimenting with film these days.
This weekend as a fun little project, I am going to shoot a couple rolls of
35mm film
in the Brownie, all double exposures. I'm excited to see what lovely surprises I am going to get!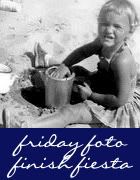 For more Friday Foto Fiesta Fun
visit
Candid Carrie
.