Want to play along? Click the image below.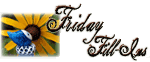 1.
I have rounded third and heading for
home.
2. My favorite thing for dinner lately has been
a little of this and some of that; mostly whatever I can pull together quickly
.
3.
The coyotes are
out there. At night I can hear them howl and
bark! bark! bark!
4. A nice long walk
in the warm sand and listening to the waves crash down on the beach is so relaxing
.
5.
I've been pretty quiet here on my blog this week, patiently waiting for
some good news.
6. When all is said and done,
there are always reasons to be happy.
7. And as for the weekend, tonight I'm looking forward to
star gazing
, tomorrow my plans include
dreaming
and Sunday, I want to
feel the sand between my toes
!
What is on your weekend agenda? Hope you all have something wonderful planned!