Click the link below to play along.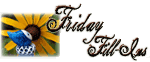 And...here we go!
1.
Burgers
and
grilled veg.
make a quick and easy dinner.
2.
"The Quiet Mind
" is the book I'm reading right now.
3. July brings back memories of
my early teens - transistor radio, an ice cold bottle of Pepsi, suntanning with friends by the lake.
4.
Once I cleared my mind and focused, the answer
was obvious.
5. They say if you tell your dreams
to the universe, your dreams will come true
.
6.
I knew the moment I walked into the house it was perfect; I needed very little time
to think it over.
7. And as for the weekend, tonight I'm looking forward to
doing some shopping for the new place
, tomorrow my plans include
going to see KISS here in Halifax!
and Sunday, I want to
relax
!
Happy Weekend! xx00