(
I'm a bit early with my Friday post this week. I wanted to post this video before the start of the Olympic Games tomorrow.
)
16-year-old
Nikki Yanofsky
sings the official song of the
2010 Olympic Games
in Vancouver, British Colombia. "I Believe," has hit No. 1 on the iTunes Canada Top Songs chart this week.
The Vancouver 2010 Olympic Winter Games begin on February 12th...
I Believe!
Do You Believe?
Now on the the Fill-Ins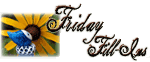 And...here we go!
1. Pickles
and Fritos are a great side for a deli flatbread sandwich.
2.
Welcome! Please have a seat and make yourself
at home.
3. The snow is
going to melt eventually and I will be so happy when it's finally Spring
.
4.
I'm already making plans for Spring. I have plans for some adventures
in nature.
5. It's 5:16 PM; that means
I'm sitting down for a nice dinner with my family (chicken Kiev, corn on the cob and smashed potatoes)
.
6.
A good tasting peach in the winter
is hard to find.
7. And as for the weekend, tonight I'm looking forward to
relaxing after work with a magazine and glass of wine
, tomorrow my plans include
shopping and a gathering with the hens
and Sunday, I want to
spend the day with the family then out for dinner with my Valentine
!
What are your plans for the weekend?