Want to play along? Click the image below.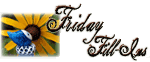 And...here we go!
1. Why does it _
take me so long to fall to sleep lately?
_
2. _
250 ml
_ is equal _
to 1 cup
_.
3. My favorite breakfast includes _
Canadian back-bacon, scrambled eggs, hash browns, toast and a mimosa
_.
4. _
The Lake Of Dreams by Kim Edwards
_ was the last book I read _
and enjoyed
_.
5. I am SO glad _
we are all excited about the new puppy
_.
6. _
A hot water bottle and handfull of Midol
_ would make me feel better right now.
7. And as for the weekend, tonight I'm looking forward to _
shopping for some doggie supplies
_, tomorrow my plans include _
hanging out here at home and possibly run some errands
_ and Sunday, I want to _
try for the market again
.
Something always seems to come up that takes precedence
_!
Wishing you all a great weekend ♥