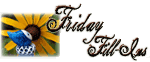 Questions 4-6 this week are courtesy of
Sherry
! Thanks!
Here we go:
1. I believe whatever doesn't kill you
makes me really grateful it didn't
.
2. If you're good at something,
don't do it for free
. lol
3. (I'm sure this will be a popular answer)
4. Something is out there, it's
beautiful and mysterious
.
5. If my life were a sitcom, it would be titled
"Slightly Off-Center" or maybe, "Are You Ready For This?"
6. Sitting on my back porch [if you don't have one, use your imagination] I see
A forest alive with wildlife; I hear the Mourning Doves mournful coo.
7. And as for the weekend, tonight I'm looking forward to
an evening out on the town
, tomorrow my plans include
brunch with the family for the Hubby's birthday
and Sunday, I want to
chill out at home and maybe do some chores
!