Click the link below to play along.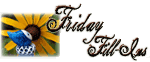 And...here we go!
1. There are places
to go today and things to do but I'm feeling kind of blah and my ass is dragging
.
2.
The Beatles sing "all things must pass" and "it's not always been this gray" (obviously they have never been to Eastern Canada in the winter). Today my head is in the clouds where my mind can
blow those clouds away.
3. Standing in the
shower this morning, I was imagining myself in a warm tropical paradise
.
4.
I can't seem to get the gears in this old bean of mine to get moving...
oh boy!
5. He went out tiger hunting
with his elephant and gun. In case of accidents he always took his mom. - I always thought this song would have been better if recorded with out Yoko Ono screeching in the background.
6.
With all this cold and snow, how can I possibly keep
my mind from wandering
?
7. And as for the weekend, tonight I'm looking forward to
going home and snuggling up in my comfy PJ's
, tomorrow my plans include
grocery store, hardware store, furniture store
and Sunday, I want to
cook a nice dinner for the family, maybe watch a movie or two
!