I made a delicious batch of Whoopie Pies this week and they are going fast. What is a Whoopie Pie you ask? Well, it is a sinful confection made with two round(ish) chocolate, pumpkin or banana cake mounds, with a gooey, creamy frosting that is sandwiched between the cake. A whoopie pie, also called: a gob, black-and-white, bob, or "BFO" for Big Fat Oreo.
Recipe:
Ingredients
2 cups all-purpose flour
1/2 cup unsweetened cocoa
1 1/2 teaspoons baking soda
1/2 teaspoon salt
1 stick unsalted butter, softened (1/2 c)
1 cup sugar
1 large egg
1 cup milk
Preheat oven to 425°F. Line 2 large baking sheets with parchment paper.
Make cakes: Sift flour, unsweetened cocoa, baking soda and salt together into a bowl. Cream butter and sugar in a large bowl of an electric mixer at high speed until fluffy, about 5 minutes. Add egg and beat at medium speed until fully incorporated. Change mixer speed to low and add dry ingredients, alternating with milk, mixing until just blended.
Drop batter 1/2 Tbsp. at a time and about 2 inches apart onto each sheet to make 18 cakes per baking sheet. Bake for 7 minutes, until mini cakes are springy to touch. Let cool on pan for 5 minutes, and then transfer to racks to cool completely. Change parchment paper and repeat to make 72 cakes.
Match cakes in pairs so tops and bottoms are similar in shape. Spread bottoms with cream filling and cover with top.
For Cream Filling, combine 1 stick of unsalted butter and 1 2/3 cups confectioners' sugar in a bowl and beat at low speed until blended. Then beat at high speed until mixture is fluffy, about 5 minutes. Add 1/2 tsp. pure vanilla extract and 2 cups marshmallow cream; mix at low speed until blended well. (Makes 2 1/3 cups)
Note:
If you want to take the time to add the filling to a pastry bag and pipe the batter onto your parchment lined baking sheet, the cookies/cakes will come out in a more rounded shape.
Now on to the Fill-Ins.
Want to play along? Click on the button.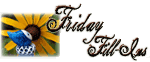 #166. And...here we go!
1. Why are you making
a mountain out of molehill
?
2. I want you to take
mother nature and give her a good hard shake for me today (brrrr!)
.
3.
I'm learning to take control of anxieties and fears,
then it will be on my terms.
4.
Shake it up
and see what happens.
5. I could use a
record button for my mind these days
.
6.
I was feeling pretty confident about my outfit choice
and then
I caught a glimpse of my reflection in the window
(Yikes!)
.
7. And as for the weekend, tonight I'm looking forward to
going with the flow
, tomorrow my plans include
the usual Saturday errands, then spending the evening baking for a wedding shower for my sister-in-law
and Sunday, I want to
enjoy a nice brunch with the ladies
!