...
Open up the earth and sky
Waiting on a natural disaster
Sitting out on my back porch
Watching storm clouds moving faster
Like a natural disaster
~Joel Plaskett


Friday Fill Ins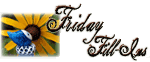 Click here to play along
And...here we go!
1. How in the world did I _
become so stagnant this summer
_.
2. _
Sometimes I can't see the forest for the trees
_ in front of me.
3. Life's _
lesson for today: A great deal of power lies in the power of perspective. It's all in how look at things_.
4. _
I like a little wine with my
_ picnic lunch.
5. That was where we _
talked about our fears and worries, and I honestly, truly fell in love with him all over again
_.
6. _
The place where the sand meets the tide
_ I think of as "our place".
7. And as for the weekend, tonight I'm looking forward to _
doing some shopping with baby girl
_, tomorrow my plans include _
a drive to the valley with hubby
_ and Sunday, I want to _
catch up on some housework and make plans for the quickly approaching Autumn season
_!
What are your plans for this weekend?