Questions courtesy of
YellowRose
this week. Thanks
YellowRose
!
Want to play? Just click on the link below.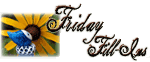 1. Please don't tell me
how the story ends ~ Joan Osborne
2. Can you
leave me alone 'till I have my coffee
in the morning?
3. The color
pepto bismol

pink
makes me want to
gag
!
4. I have a craving for
grilled T bone, baked potato, buttery corn on the cob and strawberry shortcake
...
Oh, and SUMMER!
5. If my life had a pause button, I'd pause it
whenever I needed a break
.
I kind of do have a pause button, it's called daydreaming
.
6. Eyes are the
most complex organs you possess except for your brain.
7. And as for the weekend, tonight I'm looking forward to
dinner with baby girl and hubby then shoe shopping
, tomorrow my plans include
nothing special, just wait and see how the day plays out
and Sunday, I want to
get my house tidied and do some chores I've been putting off for a while
!
Ps.. How could I have forgotten to mention I got tickets to see
KISS
today!!!
Three cheers for the weekend! -- hip. hip. hooray x 3