Click the link to play along.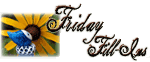 And...here we go!
1. Moving
some furniture around today, I dropped a cabinet on my baby toe and now it's all black and blue.
2.
My toe is not pain
free.
3. My best quality is
????
5. In nearly 10 years,
I will be 50!
6.
A glass of wine and dinner on a patio at a nice restaurant
is what I need right now!
7. And as for the weekend, tonight I'm looking forward to
shopping for some linens for my kids bedrooms
, tomorrow my plans include
the usual errands and possibly the beach
and Sunday, I want to
go to the beach if I don't get to go on Saturday
!
Wishing you all a happy weekend!